Archaeologists to reconstruct 5000 year old Giant's Quoit
Sunday 20th October 2013
Archaeologists are to finally start work on reconstructing Giant's Quoit, a Stonehenge-like structure built 5,000 years ago by early man living near Camborne.

Following three years of fund raising the ancient scheduled monument is being restored with final excavations taking place between October 21 and 31 with an open day scheduled for the 27th.

"Weather permitting we anticipate the erection of the first support stone, or orthostat, during the morning of 31st October," said Pip Richards, director of the Sustainable Trust.

The Sustainable Trust, which owns the field, known as Cromlech Parc or Frying Pan Field, has £55,000 funding to carry out the work, which has been approved byEnglish Heritage.




___________________________________________
New Stonehenge visitor centre to open on 18th December
Monday 30th September 2013
English Heritage announced today that the first phase of the long-awaited improvements to the setting and visitor experience of Stonehenge will be launched to the public on Wednesday, December 18.

Visitors will be welcomed at a new visitor building, located 2.1km (1.5 miles) to the west of Stonehenge.

For the first time ever at the site, they will be able to learn more about this complex monument in a stunning, museum-quality permanent exhibition curated by English Heritage experts.

A 360-degree virtual, immersive experience will let visitors 'stand in the stones' before they enter a gallery presenting the facts and theories surrounding the monument through various displays and nearly 300 prehistoric artefacts.

The archaeological finds on display are on loan from the Salisbury and South Wiltshire Museum, the Wiltshire Museum in Devizes, and the Duckworth Collection, University of Cambridge. All were found inside the World Heritage Site and many are on public display for the first time.

___________________________________________
Stonehenge visitor centre unveiled
Thursday 26th September 2013
Pondering the enigma of the imposing stone circle that stands on Salisbury Plain early in the 17th century King James I commissioned his architect general, Inigo Jones, to prepare a report on the stones' condition and their origins. Jones concluded that only the Romans could have built such a sophisticated structure, backing up his case with crisp drawings of the stones in a pre-ruinous state, while dismissing the ancient Britons as savages incapable of building such 'stately structures'.

Four hundred years later much the same questions are still being asked about Stonehenge. Who built it? What was it for? But in more recent years the focus has been how best to preserve the stones and protect them from the modern-day savagery of the motor-car and mass tourism.

Stonehenge is perhaps the most famous Neolithic site in the world, drawing thousands of visitors each day. A Unesco World Heritage Site, it is a 'must-see' monument, part of the identity of Britain itself. But as the site's fame has grown over the centuries, the question of how to deal with all these visitors while protecting the stones themselves, and their surroundings, has become ever more taxing.

The current visitor centre – little more than a collection of portable buildings and lavatories arranged around a car-park – was built in 1968 and was barely adequate even then. 'Stonehenge has been a national humiliation,' Simon Thurley, the chief executive of English Heritage, guardians of the stones since 1984, says. 'I think it's really extraordinary that the only man-made structure in Britain that is instantly recognisable, from Patagonia to Serbia and beyond, has been treated as though it was a motorway service station.' But now, after decades of controversy and failure to find an answer to the 'Stonehenge problem', it looks as if a solution, or at least a partial solution, has been found.

___________________________________________
New tomb and passage found at Newgrange
Wednesday 11th September 2013
ARCHAEOLOGISTS who discovered a new passage tomb near Newgrange want it declared a national monument.

Using light detection and ranging imaging known as LiDar, an underground passageway and several other previously undetected features have been discovered near the river Boyne, Co Meath, on private land south-west of Newgrange.

The LiDar imagery showed a mound with a circular enclosure, while further work involving new technologies, known as magnetic radiometry and resistivity, unveiled a definite passage, leading northeast out of the newly discovered tomb.

___________________________________________
Dig confirms Stonehenge built on solstice axis
Monday 9th September 2013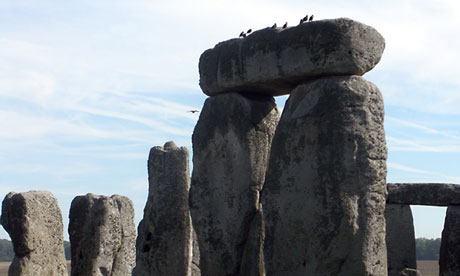 English Heritage says it has discovered a "missing piece in the jigsaw" in our understanding of Stonehenge, England's greatest prehistoric site. Excavations along the ancient processional route to the monument have confirmed the theory that it was built along an ice age landform that happened to be on the solstice axis.

The Avenue was an earthwork route that extended 1.5 miles from the north-eastern entrance to Wiltshire's standing stones to the River Avon at West Amesbury. Following the closure of the A344 road, which cut across the route, archaeologists have been able to excavate there for the first time.

Just below the tarmac, they have found naturally occurring fissures that once lay between ridges against which prehistoric builders dug ditches to create the Avenue. The ridges were created by Ice Age meltwater that happen to point directly at the mid-winter sunset in one direction and the mid-summer sunrise in the other.

Professor Mike Parker Pearson, a leading expert on Stonehenge, said: "It's hugely significant because it tells us a lot about why Stonehenge was located where it is and why they [prehistoric people] were so interested in the solstices. It's not to do with worshipping the sun, some kind of calendar or astronomical observatory; it's about how this place was special to prehistoric people.

"This natural landform happens to be on the solstice axis, which brings heaven and earth into one. So the reason that Stonehenge is all about the solstices, we think, is because they actually saw this in the land."

___________________________________________
Roman mosaic uncovered in Butleigh
Friday 6th September 2013
A ROMAN mosaic that has been hidden beneath a field in Butleigh has been revealed to the world for the first time in 1,600 years.

A team of archaeologists unearthed the mosaic last month, at a location in Butleigh.

The dig was carried out by Paul Martin and his business partner Sam Driscoll, of Wiltshire-based Absolute Archaeology.

They have been working on the site on and off since 2005, when they used geophysical surveys to discover foundations to buildings and buried floors, as well as building materials, nails, pottery shards and Roman coins.


___________________________________________
Ham Hill fort dig reveals 2500 year old human remains
Tuesday 3rd September 2013
Human remains more than 2,500 years old have been found in the UK's largest Iron Age hill fort in Somerset.

Archaeologists from Cardiff and Cambridge universities began excavating Ham Hill two years ago when a trial dig revealed an Iron Age skeleton.

The latest remains have been found near the edge of the hill fort, revealing signs of violent conflict.

And other bones and skulls found in the interior section mainly belonged to young women in their 20s.

___________________________________________
Iron Age loch village uncovered in Wigtownshire
Monday 2nd September 2013
Archaeologists have uncovered remains of the first Iron Age 'loch village' to be found in Scotland at Black Loch of Myrton, Monreith.

Experts from AOC Archaeology Group carried out an excavation, which was part-financed with £15,000 from Historic Scotland, this summer in was a small-scale pilot excavation of what was initially thought to be a crannog in the now-infilled loch, which was under threat of destruction as a result of drainage operations.

However, during the excavation the group – who worked on the dig in conjunction with local volunteers – discovered evidence of multiple structures making up a small village.

What initially appeared to be one of a small group of mounds before excavation was revealed to be a massive stone hearth complex at the centre of a roundhouse. The timber structure of the house has been preserved, with beams radiating out from the hearth forming the foundation, while the outer wall consists of a double-circuit of stakes.

___________________________________________
Roman temple found in Conwy Valley
Wednesday 28th August 2013
The remains of what is suspected to be a Roman temple have uncovered by archaeologists who had been searching for a lost 11th Century church.

Archaeologists had been trying to find a Norman church on farmland in the Conwy Valley after baked remains became apparent during the hot summer of 2006.

But as the dig got under way the team realised there was a much older building on the site.

Researchers are trying to establish if it was a temple used by Roman soldiers.

The dig, which was being filmed for a Welsh-language television series, had been to try and uncover the remains of a church but instead artefacts dating back to Roman times were unearthed.

___________________________________________
Glastonbury Abbot's Kitchen preserved
Monday 19th August 2013
Work to conserve one of the world's few surviving medieval kitchens is to take place at Glastonbury Abbey.

The Abbot's Kitchen, in the grounds of the abbey, was built in the 14th Century.

Work will include the removal of "damaging materials" used in earlier repairs and the stabilisation of vulnerable stonework.

The work follows a digital survey of the Abbot's Kitchen earlier this year, the first survey since the 1830s.

It is "one of only a handful of medieval kitchen surviving in the world", according to the abbey.

The kitchen's eight-sided interior includes four huge corner fireplaces, each with a different function: roasting, boiling, baking and washing up.